I combined this challenge with the
Groovie Covers August Challenge
. Here's the cover that inspired me.
I decided to create a 'diary' showcasing all my cute embellishments.. Most of them are new.. i've also added some older ones.. This is to remind me of all the cute embellies i have, and to make sure i use them! :P
I have a soft spot for cute embellishments. they are just too hard to resist! So i must often remind myself to use them. Creating this page will definitely help to remind me! =P
Did some stamping with some of my cute stamps too.. Layered some cupcakes too!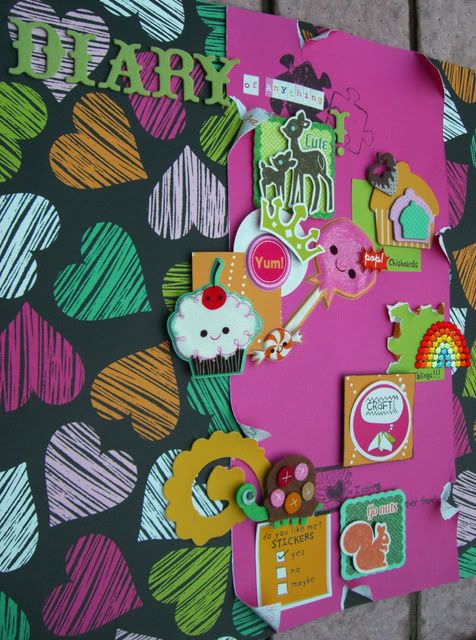 Here's a list of American Crafts supplies i used:
Teen Prom Date PP (#34630)
Teen Homecoming Queen PP (#34638)
Teen Passing Notes PP (#34643)
Remarks Sticker Book Journaling Texting Color (#42533)
MyHouse Craft Fair Patterned Chipboard (#77198)
Vinyl Vera Vinyl Accents - Sunflower (#42936)
By The Yard Fabric Thickers (#42971)