Here's the
Groovie Challenge by Maya
. The challenge is to create a layout about 'Celebration'. We are to include the following in our layout:
-Colour theme: Red, White & Black
-Multiple photos
-Stickers
-At least a handmade embellishment by yourself
-Scalloped paper

I also combined this challenge with MWL Aida's Scrap by Numbers Challenge. The challenge is to scrap a layout with the following:
- Title must be a number or a date.
- Keep within 15 to 20 points limit.
How the points are calculated :
- Each item used on the layout is ONE point be it cardstock, paper, an embellie, a flower, a brad etc.
- Paper - any 1 pattern paper is considered 1 point. Every single flower or cut-out from the pattern paper and used on the layout is 1 point, 3 flowers cut-outs is 3 points.
- Stamp - when you use a stamped sentiment, if you cut it up, each piece you USE on the layout is 1 point. A stamped image that is used intact is 1 point.
- Mist or paint - Each colour you use is 1 point. Use the mist or paint anywhere in the LO. This is the only exception where you can use it as many times as you like on the LO.

Here's my take on the challenge... I did some tearing to the PP and inked the edges...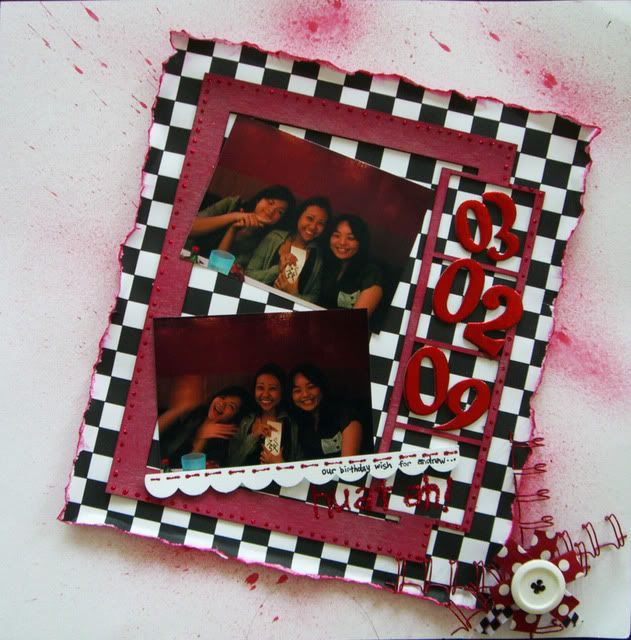 Added some mist and ink onto the Magistical Memories Snap 2 It Frame chipboard...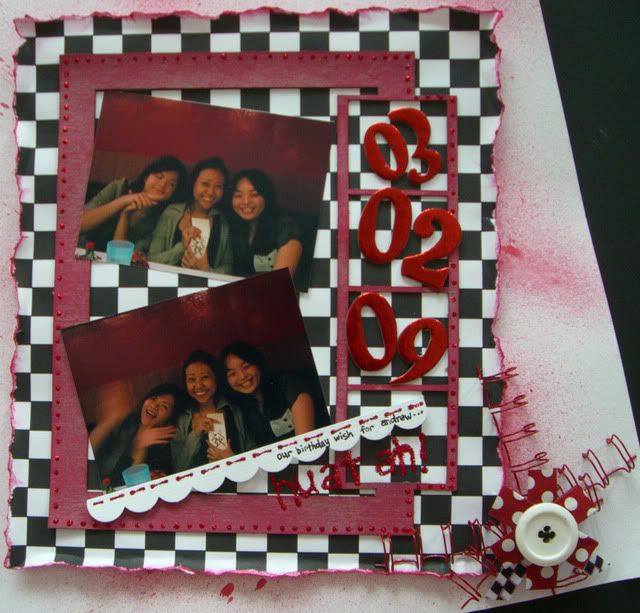 Decided to mist the cardstock to create texture...

Here's my tabulation of points:
2 Photos - 2 Points
Title - 1 Point
Chipboard - 1 Point
3 Red Binding Wire - 3 Points
1 Ribbon - 1 Point
3 Gaffer Tape - 3 Points
1 Button - 1 Point
PP - 1 Point
2 Cardstocks - 2 Points
Journaling – 1 Point
Mist (Passion Red) – 1 Point
Rose Red Ink - 1 Point
Stickles (Xmas Red) - 1 Point
Thread for stitching - 1 Point
Total - 20 Points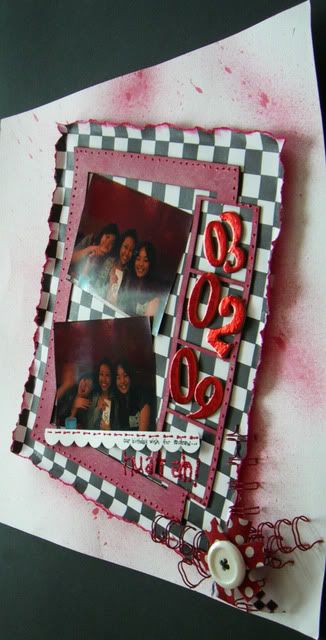 I handmade a flower using Zutter rings, ribbon and gaffer tape. Also stitched a button to complete it. I love my flower! :)
Here's the list of American Crafts supply i used:
Teen Chess Club PP (#34634)
Tinsel Foil Chipboard Thickers - Cherry (Metallic) (#42895)
Teen BFF Box Ribbon (#87622)