Here's the sketch I used from Pile It On Challenge 6. The challenge is to use this sketch and combine it with at least one other challenge.

I also combined it with Magistical Memories Lyrics challenge which is to to use lyrics from a song as your title and Label Tulip Girl Kimberley Neddo's LT kit challenge which is to create something using a mixture of past/current kits.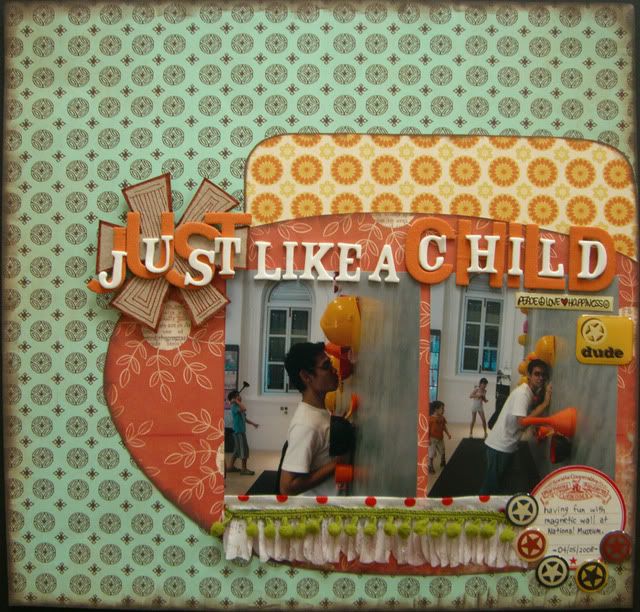 I had fun with this page! I just added more and more items onto the page till I felt it was complete. I used Magistical Memories Whimsical Flower chipboard to matt the title...

Did some pleating and stamping on the crepe paper ribbon... I also layered the thickers to add texture... The title is from the lyrics of Backstreet Boys "Like a Child"...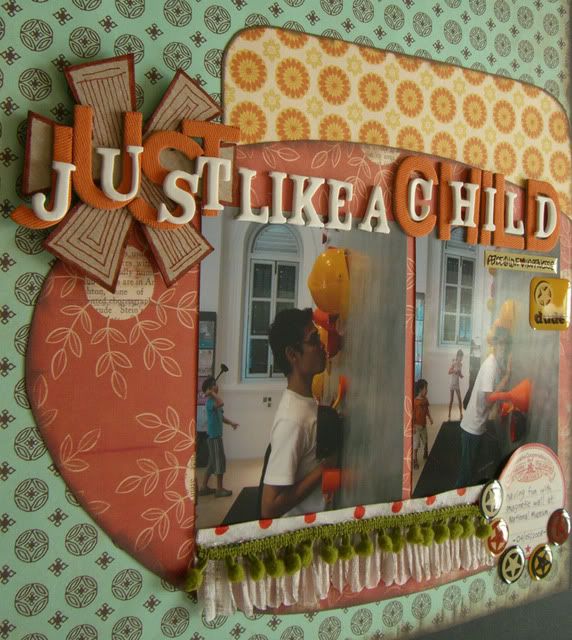 Here is the list of items I used from various LT kits...
August 2008 kit:
- PPs: Dream Street Papers, Pink Paislee & Scenic Route PPs
- Jenni Bowlin Studio Apothecary Red sticker
September 2008 kit:
- Green Pompom Ribbon
- Prima Youth Collection Epoxy Stickers
October 2008 kit:
- American Crafts Dolce Fabric Thickers
- Jenni Bowlin Studio Crepe Paper Ribbon
- Label Tulip Star Clear Stamp
I managed to retake my photos! finally! :)